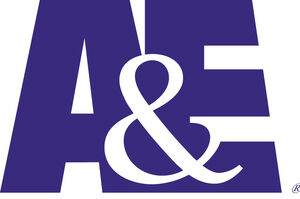 A&E is a cable and satellite television network with headquarters in Manhattan and offices in Stamford, Atlanta, Detroit, Los Angeles, Chicago, and London. A&E stands for Arts & Entertainment, which, for many years, was in the channel's full title. The network also airs in Canada and Latin America.
Description and programming
Edit
The channel, which originally focused programming on biographies, documentaries, and drama series (especially crime dramas and mysteries), and has expanded to include reality television programming, reaches more than 85 million homes in the United States and Canada. A&E is a joint venture of the Hearst Corporation (37.5% ownership), The Walt Disney Company (37.5%), and NBC Universal (25%). The network is a result of a merger in 1984 between the ABC Arts and (pre-General Electric merger) RCA-owned Entertainment cable channels.
The A&E channel is the flagship of the A&E Television Networks group, which also includes The History Channel and The Biography Channel. It had often shown programming from abroad, particularly BBC network productions from the United Kingdom.[1] Examples of British programming prominently broadcast on the channel include documentary Freud.[1]
However, the use of British programming has diminished greatly since A&E began scheduling more reality shows. For example, the network waited almost a year and a half to show the fourth season of MI-5, programmed it after prime time on Friday nights at 11pm Eastern, then stopped showing it after only two episodes, and programmed the rest of the season in one day on October 21, 2006.[2]
Its fine arts programs have also been completely retired. Thursday nights once featured an anthology series called A&E Stage, hosted by John Mauceri, which featured telecasts of notable plays, concerts, full-length documentaries related to the arts, and complete operas, although shown with commercials. Such programs as Otto Schenk's 1978 production of Fidelio, with Leonard Bernstein conducting, were rebroadcast on this anthology. The final fine arts-related show to air on the network, Breakfast with the Arts, once featured a higher quantity of classical music than in its final years, and fewer interviews. The show was cancelled in July 2007.