The Biography Channel (or simply bio.) is an American digital cable television channel owned by A&E and based on the television series of the same name. A version of the channel also airs on ONO and Telefónica in Spain and on Sky Digital and cable television in the United Kingdom, a version of the channel also broadcasts in Canada owned by Rogers Media and in Australia. It is a digital cable, category 1 television channel in Canada. In 2007 a German and a Latin American version of the Biography Channel were launched. Biography Channel began programming in 1999. In addition to biographical shows, the network has been airing fictional, non-biographical programming previously seen on A&E, including Murder, She Wrote and The Adventures of Sherlock Holmes, though this practice ended in 2007.
As of August 2006, the Biography Channel became the exclusive home for the Biography series, which was also dropped by A&E.
On Monday, July 16, 2007, the Biography Channel unveiled a new logo, a new tagline ("True Story") and revamped its on-air look and feel. Although the channel will refer to itself as Bio in much of its branding, the Biography Channel name is still in use as a subheading within the channel logo and for other network business.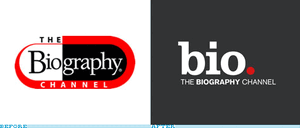 Ad blocker interference detected!
Wikia is a free-to-use site that makes money from advertising. We have a modified experience for viewers using ad blockers

Wikia is not accessible if you've made further modifications. Remove the custom ad blocker rule(s) and the page will load as expected.