Cartoon Network (abbreviated CN, corporately known as The Cartoon Network, Inc.) is a cable television network created by Turner Broadcasting which primarily shows animated programming. The original American channel began broadcasting on October 1, 1992 with the Bugs Bunny short Rhapsody Rabbit being its first-ever aired program. Cartoon Network originally served as a 24-hour outlet for classic animation properties from the Turner Broadcasting libraries and is mainly youth-oriented, but shares channel space with a late-night adult-oriented channel programming block called Adult Swim. Since 2003 however, Cartoon Network began airing a small amount of live-action programming, mostly movies.
In October 2008, Cartoon Network began running a West Coast feed, with programming airing three hours after it airs on the main feed.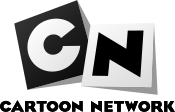 Ad blocker interference detected!
Wikia is a free-to-use site that makes money from advertising. We have a modified experience for viewers using ad blockers

Wikia is not accessible if you've made further modifications. Remove the custom ad blocker rule(s) and the page will load as expected.